Hello. Please read all the info on this page. I know there is lots here but it will give you loads of education on charter fishing in South Florida. Take the time, you will probably be glad you did.
Captain Ron Mallet
If you plan a visit to Sebastian, Florida be sure to let me know. I am setting up a new service in the area. It is based on inshore fishing along the Indian River, ICW waterways. Our 26 BeachCat boat is equipped to take up to 6 passengers for Eco tours, fishing excursions and more.
We will provide kayak, paddleboard SUP mothership support. You will be able to bring your watercraft and gear onboard so we can transport you to remote locations within your scheduled trips range. We can also arrange rental of kayaks and SUPs if you need one.
We also offer Eco sightseeing tours. This lets you enjoy the view from the water in Brevard and Indian River County. We will not be fishing, just looking at the local birds, manatees, iguanas, fish and other wildlife the area has to offer. You will also get a great view of the inlet, river and many spoil islands. Manatee, Dolphin (porpoise) and lots of birds. Bring your camera and video recorder!
Take a look at www.PaddleLodge.com for more info and let us know if you have any questions.
Special afternoon children/family outings available for the season!
I recently modified my schedule and have included a family style outing. My 3 hour trip has the option to start later in the day making it easier to get children ready to head for the boat. I do not take reservations on 3 hour trips but I am fine with calls giving me an hour notice most days. Additional hours can be added should our schedules fit and the fish and weather cooperate. I offer this for adults too but limit the boat to 3 adult passengers. Most times we are fishing 2 rods. You decide who takes turns to get the next bite. My 5 and 7 hour trips are confirmed reservations based on going offshore. I start these outings around 8am each day.
General Info
I tried to answer most questions that I've been asked over the last 30 years. If you have more then a simple question or two, please call me, but don't call to ask me what we will catch that day, what the weather will be or what I have been catching lately because the honest answer is means nothing for planning future fshing trips. What I catch at 11 am has nothing to do with what I might see at 1pm the same day so I can't honestly predict what your trip might produce. I don't want to feel in a position of having to tell you what you want to hear in order for you to come fishing with me. The species chart listed on this site and my fishing reports are posted to give a very general idea of what we do. I wont take reservations based on targeting certain species or fishing in perfect weather conditions. You can call me anytime between 8am and 10pm. When I am out fishing (and I hope I am!) I might not be able to talk much. Most of my calls are returned within minutes if I don't answer and I always have time to talk at the end of my work day.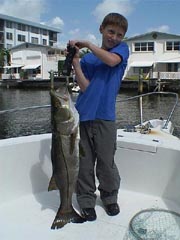 My son Alex caught this 40", 20 pound Snook. We held it long enough for measurements and a quick photo before releasing it.
---
For those who like information and enjoy reading...
If you write me be sure to include the word "FISHING" in the subject line.
This gets my attention and it will be read. Hi, hey, info, visit, viagra, and unique one liners related to your need to get on the water might be lost in the junk. An old fashion phone call is a good back up if you don't hear back from me the same day. I do not text.
Again...
One of the the most common questions I get is "What will the weather be like and what do you think we will catch". Weather conditions change quickly and often so I try to stay away from that subject until the day before the outing so be careful if you ask... Sometimes I'll request a call early the morning of the trip so we can get the latest update before we start the drive to the boat. As long as it isn't pouring, nonstop rain with lightning I can find somewhere to bend a rod. The question of what we will catch is as old as dirt. You know, it's called fishing! The species chart on this site gives a VERY GENERAL idea on what could happen but many factors play into each days plan. That is also another subject that is best discussed when we meet at the boat that morning. The wind speed, wind direction, weather patterns, current direction, water color, time of year, recent activity, personal goals, gutt feeling and prayer all have influences on what can happen each trip. My operation is very flexible and my years of experience both offshore and in the local canals and harbor will give you a fair chance at having success. If you read this and understand my message then you will understand that it is an honest, direct and to the point description of how this all works. If my fishing report on this site seems to be dated then the conditions are probably the same as posted. I do update the report more often as the action changes.
Many people are looking for a larger boat to go "deep sea" fishing. In this area most everyone that lives here and fishes for fun or competition use center console, outboard powered boats. The larger sportfish, diesel powered boats are fishing along side us for the same fish. Often the smaller boat with light tackle will provide a better chance for success and a more "hands on" experience. My single engine 25 foot boat has a greater advantage then a larger twin engine boat when it comes to maneuvering and getting into tight places or shallow water situations. Some of the best spots I fish inshore can not be accessed by a boat any larger than mine.
I list 3, 4, 5 and 7 hour trips. Baits are often in the water within 30 minutes from when your outing begins. I offer 5 or 7 hour trips for offshore outings and 3 or 4 hours for inshore/nearshore trips. We have no realistic flyfishing situations in Fort Lauderdale. Plan on a 2-4 hour drive to the Keys or the west coast if you must throw flys... and catch
It is common practice to offer the anglers the choice to purchase live bait for their outing. This often betters your chances of connecting to the larger gamefish in the area. It also saves fishing time instead of fishing for the bait during your outing. Usual costs can be around $30 to $60 depending on current pricing and length of the trip. The best way to show you enjoyed your outing is to add a little at the end of your trip. Tipping is customary when the captain, guide or crew has attempted to make your outing a good one. This cannot be judged only by the fish you catch, but also by the effort. Sometimes the bite is off and the attempt was made to get you into action. That is all you can expect. Most every boat wants to catch lots of big fish as much or more then you do. Extra effort also comes in the form of keeping, icing and cleaning your catch at the end of the trip or handling your catch to assist in your photo sessions. Remember, you are paying for time whether it is spent fishing, cruising the canals to look at homes or arranging your trophy catch to become a piece of art for display at home or work.
I have a "IF YOU DON'T EAT IT, I WON'T KILL IT" policy on my boat. If it is not going to be served on a plate within the next few days it is returned to the water. I will keep edible fish for you. We do not have shipping services in this town like other fish locations and law prohibits restaraunts from cooking your catch so plan on making arrangements ahead of time. I will clean and bag your fish for you at the end of your trip if you want. I do not kill billfish or shark. If you want a trophy, a great replica mount can be produced for you. It is extremely rare, almost never, that any part of a fish is used for taxidermy with saltwater species. I can help you to connect with a top quality taxidermist that will make you a reproduction of your trophy. If you want to keep a meal just leave a cooler in your car to get your catch back to your kitchen.
If you send me an e mail requesting info about a fishing charter and you don't get a response within 24 hours, I probably didn't get your mail. Don't bother texting, I won't get it. I respond to all inquires the same day as long as I see "FISHING" in the subject title. If you don't hear back from me soon then something went wrong with the e mail system, try calling. Sometimes my spam filter grabs emails it should let through. The telephone can still get some answers better and faster then the computer's e mail can.
A common question I get often is where my boat is actually located since my ads mention a few areas. "Just Add Water" is docked in Dania, Florida. Port Everglades, Fort Lauderdale is the inlet we use. I recently moved to a new marina. It is 3 minutes south of Fort Lauderdale airport and 10 minutes south of the city. A very nice facility with a short ride to the inlet of Fort Lauderdale. The reason I list the other cities is because many of my customers are travelers from distant areas and are not familiar with the geography of Florida. They might recognize one of the other major cities they are going to be near though. My boat is a short drive from all the listed cities: Miami-Boca Raton-Hollywood-Pompano-Hallandale-Deerfield Beach-Hillsboro Beach-Delray Beach-Coral Springs-Miramar-Sunrise-Davie-Dania-Weston-Plantation-Pembroke Pines-Cooper City-Aventura...
Approximately...
3 hours from Orlando...
1.5 hours from Naples...
4 hours from Tampa...
1 hour from West Palm Beach....
Hopefully this information will help you with your plans and make your outing more enjoyable. Thanks for taking the time to read this. Good Luck!
Captain Ron